HIVE @ ONSET this Saturday!
Posted by
Grym
.
Filed under:
Uncategorized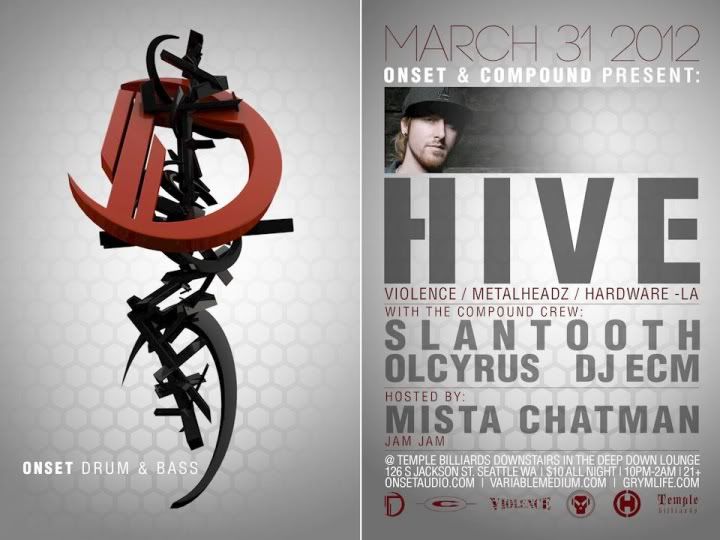 The legendary HIVE, arguably stateside DNB's biggest star, returns to ONSET this Saturday to remind us why he is the master of all things dark and techy. He's been busy in the studio as well with some new material, hopefully he gives us a taste this weekend. Also presenting this show is Seattle's own Compound Crew, a staple for West Coast junglism.
Check the mix by Hive below, a classic studio set done for DNB Arena back in '03!
TRACKLIST:
[01] )EIB( 'Bullet Time' (dub)
[02] Tech Itch & MC Jakes 'Soldiers' (dub)
[03] Raiden 'Pinball' (Transparent dub)
[04] Gridlok 'Heatwave' (Violence dub)
[05] Fresh 'Foreigner' (dub)
[06] Hive & Keaton 'Bring It On' (dub)
[07] A-Sides & Dara 'Unholy Graille' (Breakbeat Science dub)
[08] Mason & MC Armanni Reign 'Ruff Rugged & Raw VIP' (Freak dub)
[09] Loxy & B-Key 'Battle Scars' (dub)
[10] Loxy & Damage 'Deadlife' (dub)
[11] Spirit 'Out Of Control (Cause 4 Concern remix)' (dub)
[12] Gridlok 'Vampire VIP' (Violence dub)
[13] Ram Trilogy 'The Map' (Ram)
[14] Hive 'Neo' (Violence dub)
[audio:http://www.onsetaudio.com/audio/Hive-DNBArenaMixAug2003.mp3]
Hive DNB Arena Mix 03
Podcast: Play in new window | Download
| |
No Comments »
---