BACHELORS OF SCIENCE @ ONSET FEB 26 – FREE TUNES
Posted by
Grym
.
Filed under:
Drum & Bass
,
Free Downloads
,
Shows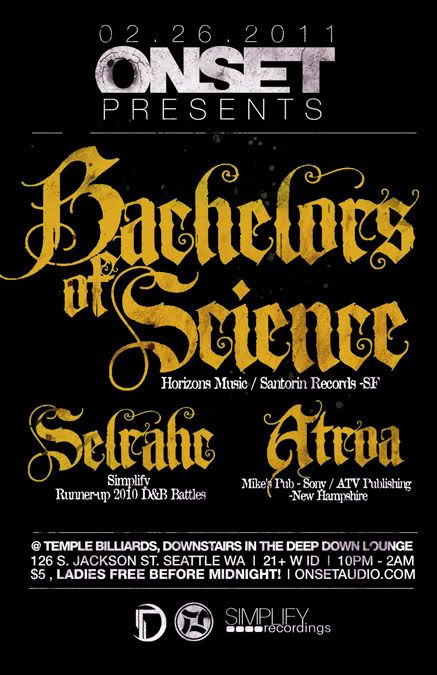 Hailing from San Francisco, California, the Bachelors of Science are fast becoming one of the top drum n bass producers in the electronic music scene. Their debut album "Science Fiction" on Horizons Music was released in 2008 to critical and commercial acclaim, selling out in just days upon its release and spending over nine weeks in the Drum n Bass Arena top ten chart.
Phil "Rene", DJ Fokus amd newcomer Lukeino make up the Bachelors. They have been taking California by storm and have rapidly gained airplay from top dj's including Brian Gee, Bailey, LTJ Bukem, Grooverider, Annie Mac, High Contrast, Doc Scott, Flight, Alix Perez, DJ Lee, Redeyes, Makoto, State Of Mind, JuJu, BigBud and L Double to name but a few.
Their unique blend of classical strings, soulful vocals and deep bass has been hailed as "a refreshing musical approach to drum n bass and a return to the true sound of liquid funk".
In addition to their producing, the Bachelors have gained a strong reputation for their high energy unique dj sets. Blending a variety of styles and always throwing in some surprises, the group has toured extensively across USA, UK, Germany, France and more, landing spots at Love Parade, Ministry of Sound and garnering extensive coverage in Knowledge Magazine, ATM, Mixmag, BBC 1Xtra and Kiss FM.
126 S. Jackson Seattle, $5  – Ladies FREE til midnight.
FREE Bachelors Of Science tunes:

[audio:http://www.onsetaudio.com/audio/InfinityRmx.mp3]
DOWNLOAD: The XX – Infinity (Bachelors Of Science Remix)
[audio:http://www.onsetaudio.com/audio/BrothersOnAHotelBedRmx.mp3]
DOWNLOAD: Death Cab For Cutie – Brothers On A Hotel Bed (Bachelors Of Science Remix)
[audio:http://www.onsetaudio.com/audio/BestFriendInLoveRmx.mp3]
DOWNLOAD: Silver Swans – Best Friend In Love (Bachelors Of Science Remix)
Podcast: Play in new window | Download
| |
No Comments »
---